Simon was born at Carolina Tiger Rescue in one of its last litters before the breeding program ceased.  He has grown into a handsome, confident cat who is always willing to come up for attention from guests.  Simon can be very demanding in his desire for both attention and food and this has made him a very grabby cat, and consequently he has bad manners.  Simon will often quickly stick his paws through the fence trying to grab food or jump up to the food shoot at feeding time.  The keepers are working with him on waiting and showing better manners but sometimes it is too hard to wait when it comes to food!

How Simon Came to the Sanctuary
Simon was born as part of Carolina Tiger Rescue's former breeding program.  Carolina Tiger Rescue, formally Carnivore Preservation Trust, was originally founded to breed keystone species in hopes of one day releasing them into a safe environment but that day never came.  Our animals who were born here will remain here as their permanent home.

Simon can be very demanding in his desire for both attention and food.   Simon can be a very grabby cat and consequently has bad manners!  He eagerly sticks his paws outside the fence and jumps up to the food chute at feeding time, illustrating for volunteers and guests alike that small stature does not make a wild animal any safer.  Simon is especially great at making his caretakers laugh by performing humorous antics like bounding through the tall grass of his enclosure and getting cardboard boxes stuck on his head.  He is very goal-oriented and although he often does not take the easy route in figuring out puzzle feeders and difficult enrichment items, he always persists until he reaches his goal. Servals don't typically like water but Simon does love to swat at water streams! He gets very confused when he can't catch them. He also enjoys guitar music, mint and imitation butter extracts, sheep fur, and cheap perfume. 

Simon is a very handsome serval with the typical large serval ears.  His ears however seems to be more pronounced than other servals, they are often very noticeable even when the grass gets long in his enclosure.

Simon is located on Pear Orchard next to Jericho Cougar.

In the late 1990's Carolina Tiger Rescue, formally Carnivore Preservation Trust, decided that we were no longer going to breed due to the number of accredited facilities that were abiding by the Species Survival Plan.  The Species Survival Plan was set up to ensure that breeding in captivity was only being done to conserve a species.  This helped limit needless breeding and helps prevent a surplus of animals living in captivity.  Carolina Tiger Rescue only supports breeding in captivity if it is done in accordance with the Species Survival Plan.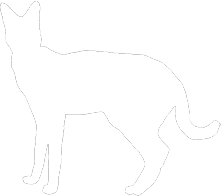 Flickr API error: 

Invalid API Key (Key has invalid format)