BEHAVIOR
Bobcats are mainly crepuscular, meaning they are most active at dawn and dusk. During winter months bobcats are out more during the day because that is when their prey is also most active. Bobcats are solitary cats that and can take down prey that is three times larger than themselves, including small deer.
COLOR PATTERN
Grey, brown coat
Black tufted ears
Short bobbed tail
White bellies
Visible spots
WHERE WE LIVE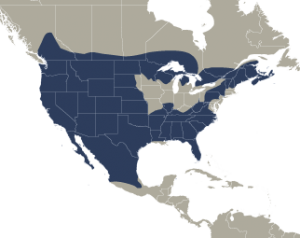 Bobcats are very adaptable and live in a variety of habitats including wooded areas, swamp lands, and even in urban areas. They have the widest range of all the wild cats in North America.
WEIGHT
Bobcat
14-21 pounds
House Cat
12 pounds
LENGTH
Bobcat
18-50 inches long
A Man's Stride
3 feet long

Bonus
Bobcat
Can take down an animal three times bigger than itself.
Deer
60 pounds
WHAT WE EAT
OBLIGATE CARNIVORE
Deer
Rabbits
Rodents
Birds
Squirrels
Chickens
THREATS
Habitat Loss
Bobcats are losing a lot of their habitat to farmers and urbanization.
Retaliatory Killings
Bobcats are killed by farmers for taking their livestock.
Did you know…
---
23
SOME FUN FACT IN THIS PLACE
Did you know…
---
23
SOME FUN FACT IN THIS PLACE
Did you know…
---
23
SOME FUN FACT IN THIS PLACE
Did you know…
---
23
SOME FUN FACT IN THIS PLACE